Gold?
Yellow, glittering, precious gold?
This yellow slave will knit and break religions, bless the accursed…
-William Shakespeare
Timon of Athens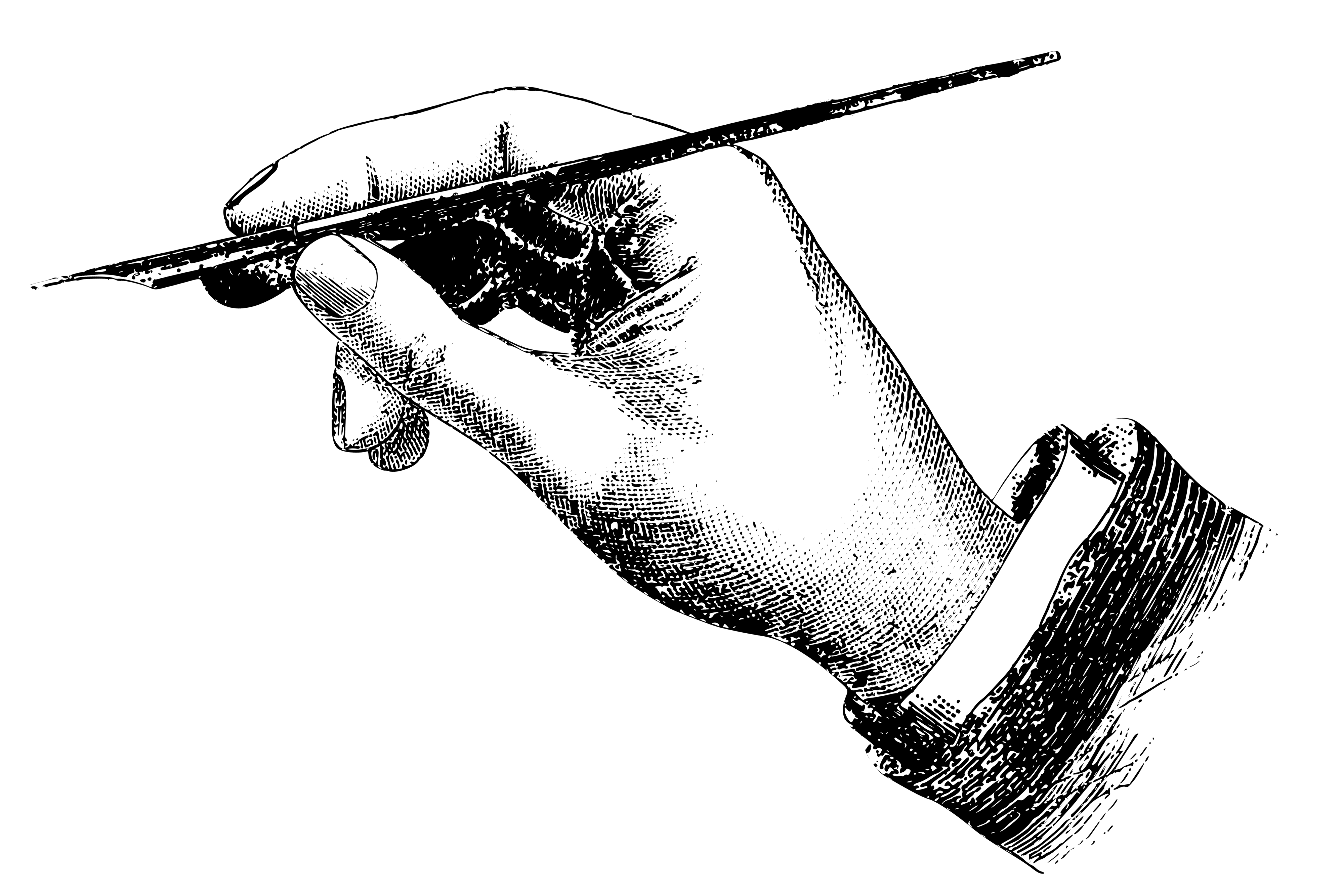 Even before gold became the trading medium of the commercial world and the foundation for modern money, it was prized for its beauty and spiritual significance. To the ancient Egyptians, gold was the perfect material – it offered a glittering yellow surface soft enough to work, yet it was so durable that it would last essentially forever. In fact, of the three known metals stable enough to have been used with other substances, unlike silver, it did not tarnish and, unlike copper with its high melting point, it could feasibly be melted into currency. Thus, it became the most desired metal in the world, transcending geographic borders to become a universal symbol of power, both political and spiritual.
HISTORY OF CANADIAN GOLD RUSHES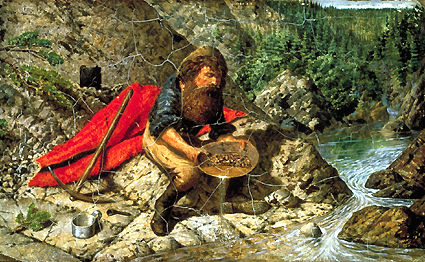 The Indigenous people in north-west America used to trade in copper nuggets prior to European expansion. Most of the tribes were aware that gold existed in the region, but it wasn't valued by them. The Russians and the Hudson's Bay Company had both explored the Yukon in the first half of the 19th century, but ignored the rumours of gold for fur trading as it offered immediate and better profits.

In the second half of the 19th century, American prospectors began making deals with the Native Tlingit and Tagish tribes. They opened the important routes of Chilkoot and White Pass, and reached the Yukon valley between 1870 and 1890.

The Klondike Gold Rush was the most famous gold rush in Canadian history. Over one hundred years ago, a handful of prospectors discovered gold nuggets in a tributary of the Klondike River, which later resulted in the migration of 100,000 prospectors. It triggered a stampede of more than one hundred thousand people into the Yukon. They travelled thousands of kilometres to reach the district, then rafted down the Yukon River and established a mining camp on a mud flat.

On the Alaskan side of the border a log-town was established in 1893 on the Yukon River called the Circle City. In three years, it grew to become "the Paris of Alaska", with about 1,200 inhabitants, saloons, opera houses, schools, and libraries. But soon it became a ghost town, when large gold deposits were found upstream on the Klondike.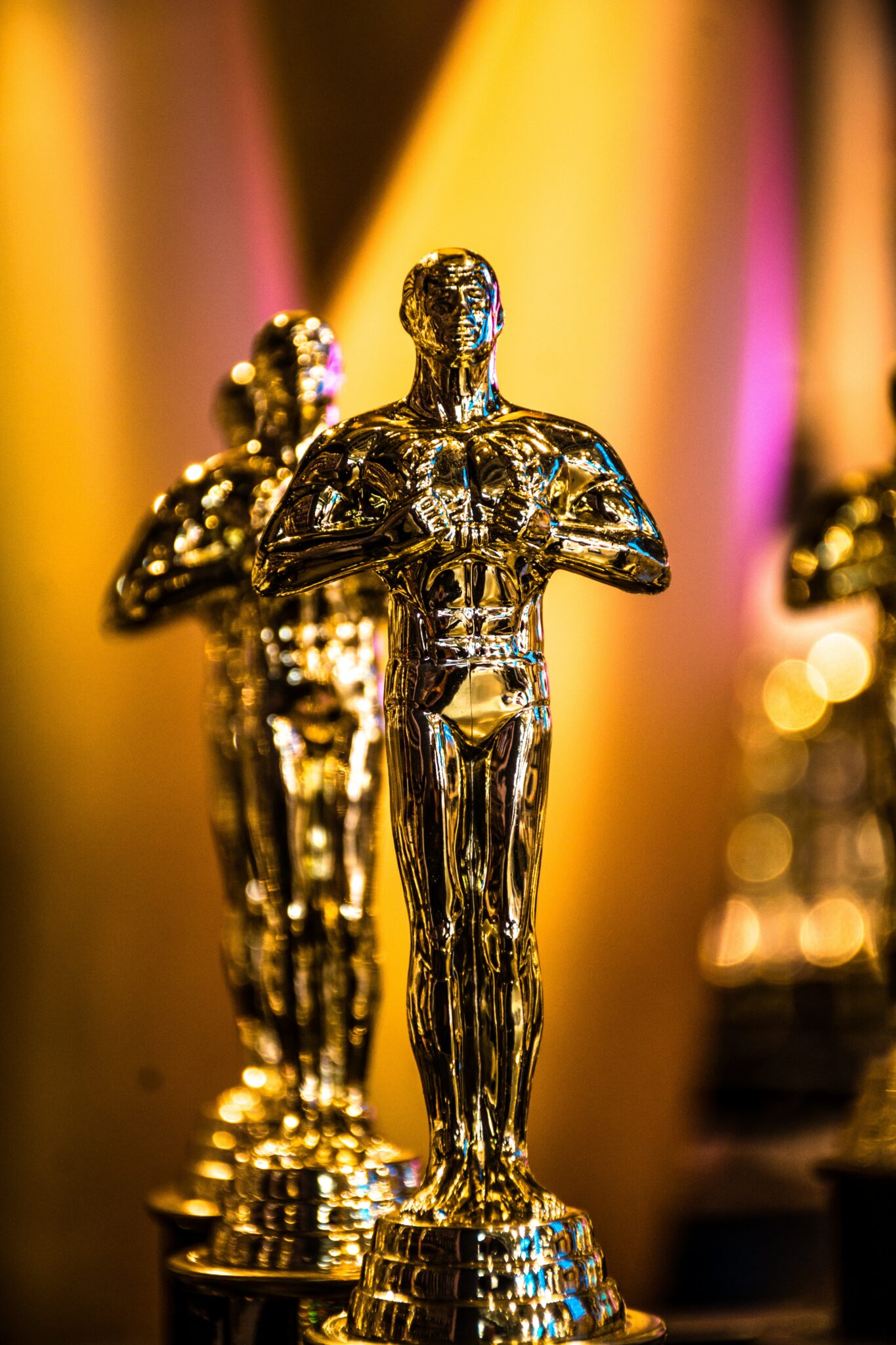 Gold holds a significance of high standard in most of the cultures. It stands for status in the society, wealth, symbol of prestige and high value as well as an award of excellence.

Great achievements are often rewarded with gold, in the form of gold medals and gold trophies. Winners of athletic tournaments and other graded competitions are usually decorated with a gold medallion. Some of the most prestigious awards, like Nobel Prize, are made of gold, while other popular awards, like Academy Awards, the Golden Globe Awards, the Emmy Awards, the Palme d'Or and the British Academy Film Awards, present gold- plated statues and prizes.

Aristotle in his ethics used gold symbolism when referring to what is now known as the golden mean. Gold is also associated with the wisdom of aging. The fiftieth anniversary is marked as golden. A person's most valued or most successful latter years are sometimes considered "golden years". The height of a civilization is referred to as a golden age.
In its pure state, gold is always golden yellow, but it is too soft to make into jewellery: to increase its hardness, gold is alloyed with other metals. Adding silver, platinum, nickel, or zinc creates pale or white gold. Copper yields red or pink gold, and iron gives a blue tinge. The purity of alloyed gold is expressed in karats, which measures parts per 24: for example, 18-karat gold means there are 18 parts gold out of 24 in the alloy, while 24-karat gold is pure (and mostly too soft to be worn). Note that "karat" is distinct from "carat", a measurement of weight in gemstones.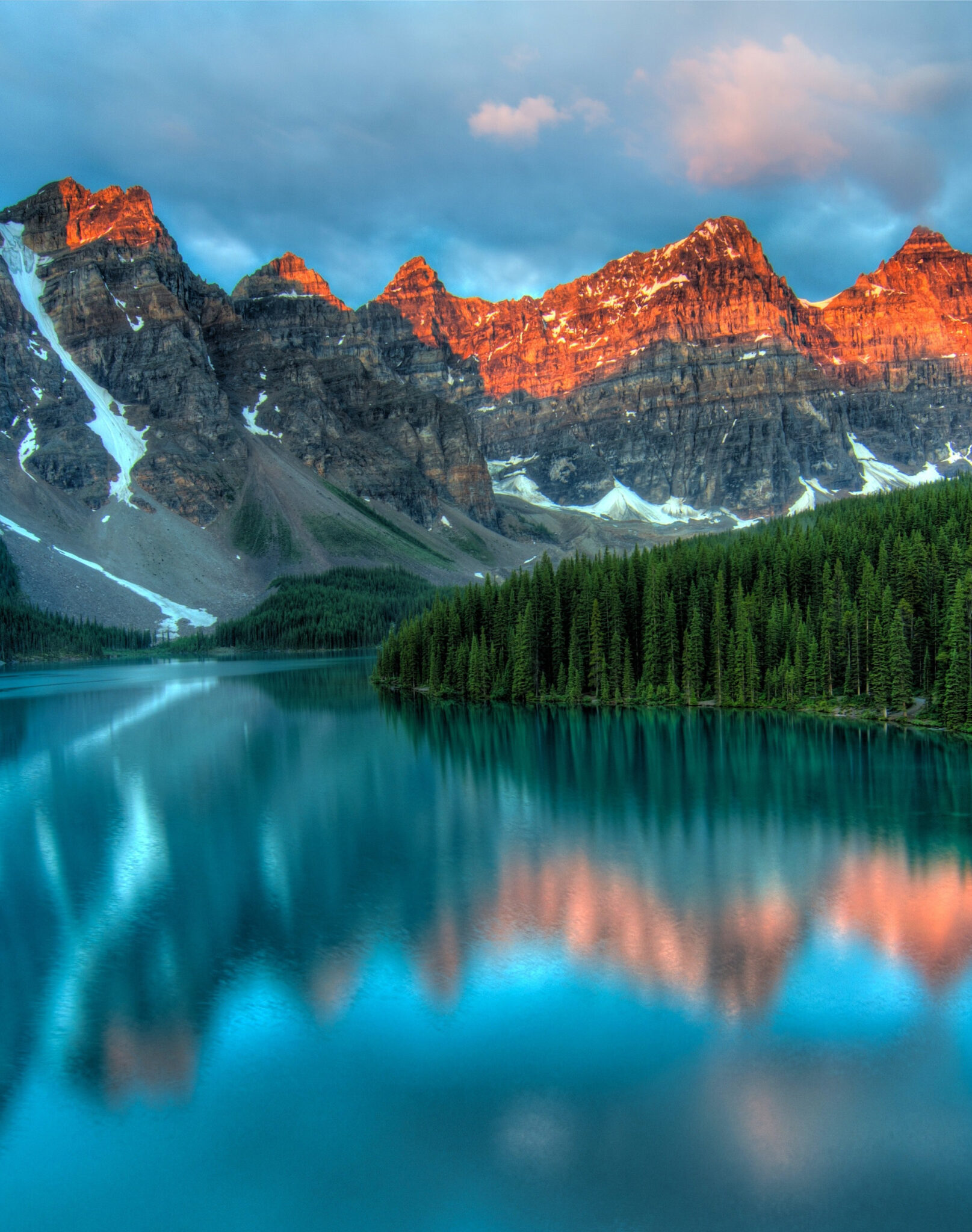 THE MOST FAMOUS, ANTIQUE YELLOW GOLD PIECES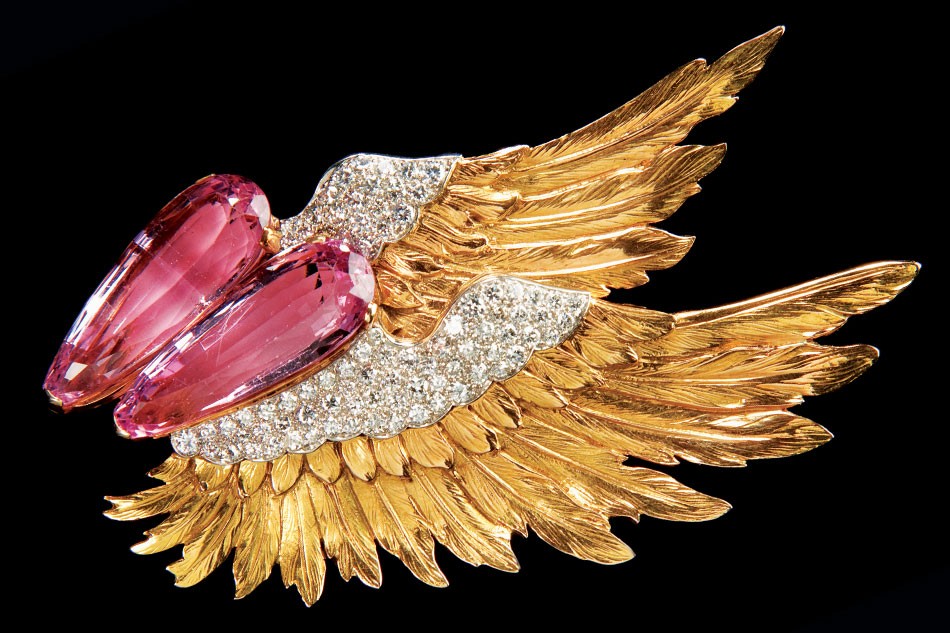 This gold Verdura winged brooch, made in 1939, is set with two large and rare pink topaz stones surrounded by diamonds. The actress Joan Fontaine owned it and wore it in Alfred Hitchcock's movie 'Suspicion'.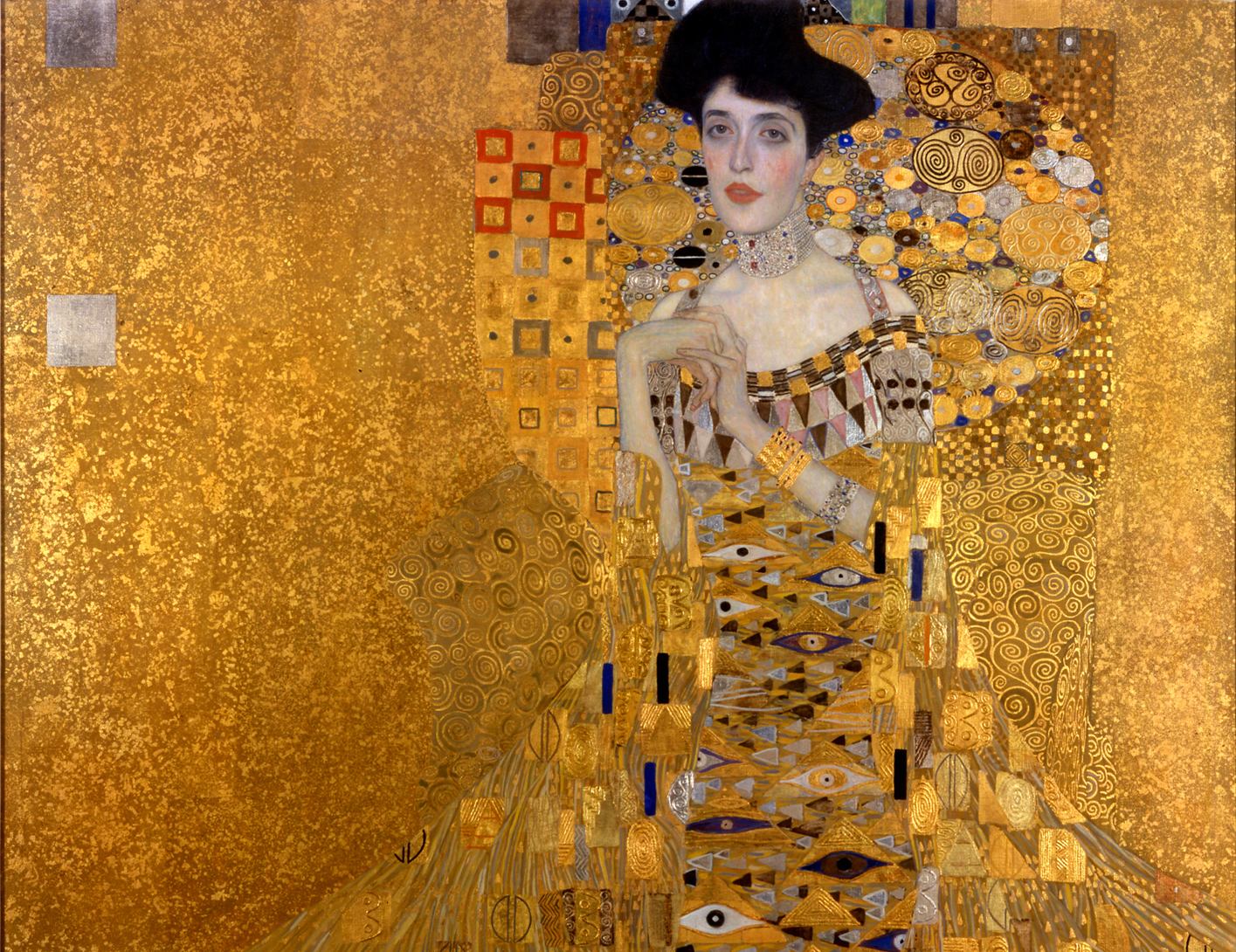 The Mona Lisa of Austria: Portrait of Adele Bloch-Bauer
With its unusual mix of naturalistic face and skin and Egyptian influenced, jewel-like decorative detail, this painting is not just painted to look like gold but also with gold in a powdered pigment form. When the Nazis seized this work in 1940, they changed the title to "The Woman in Gold" so they could display it without reference to its Jewish sitter. Its restitution was the subject of the movie "Woman in Gold" in 2015.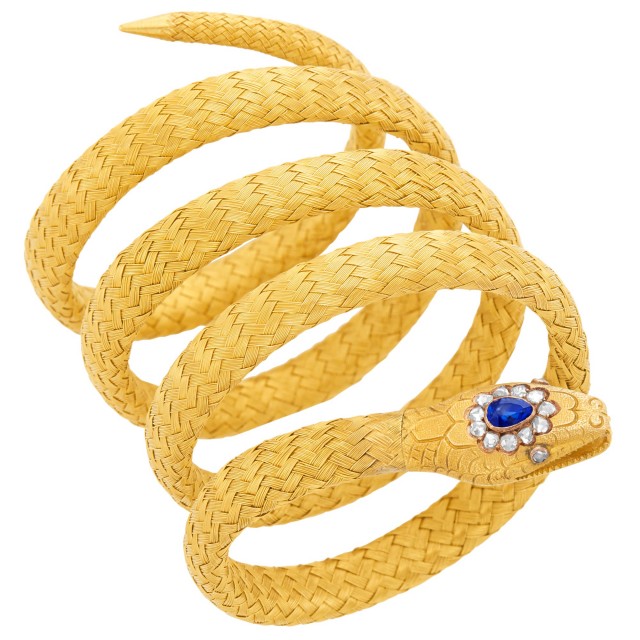 Antique Serpent Bracelet, France
This gold, diamond and sapphire antique bracelet from France take the form of a serpent. Its head is set with a sapphire ringed with diamonds.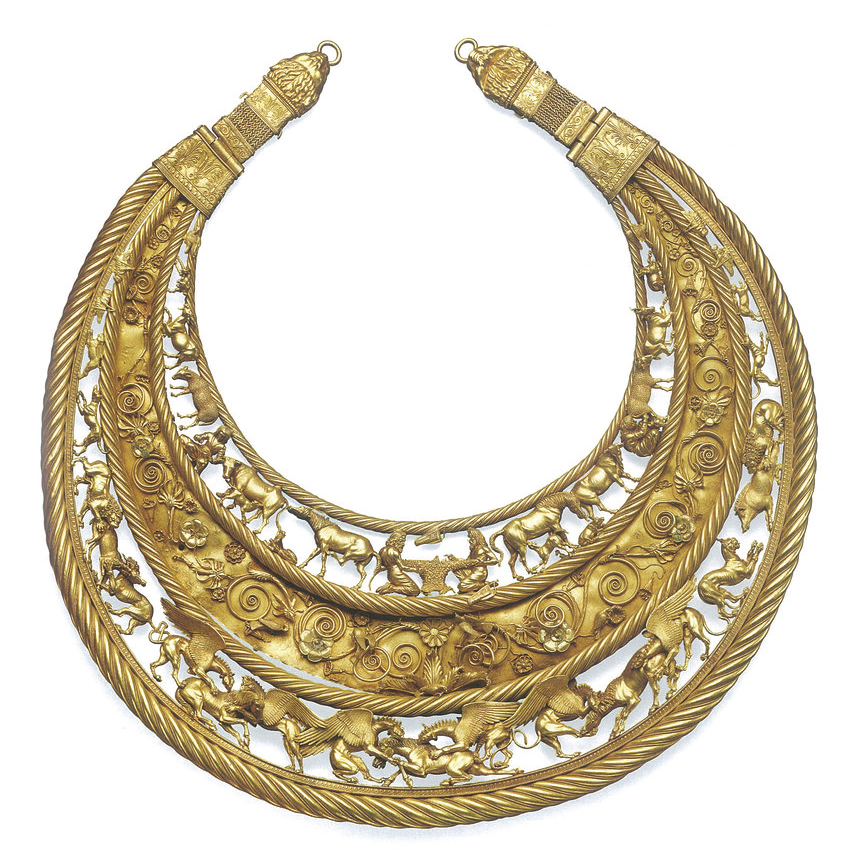 This elaborate gold pectoral was probably made by Greek goldsmiths in the 4th century BCE for a Scythian King in present-day Kazakhstan.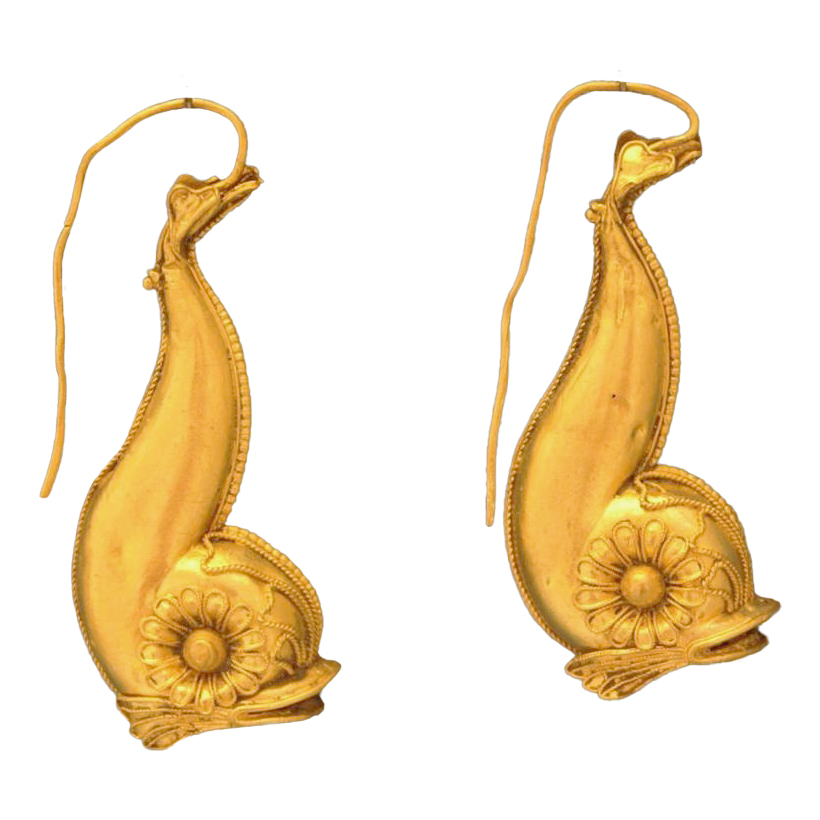 The dolphin was a common motif in ancient Roman art. These large-eyed, drop dolphin earrings date from around the 1st century CE.